Since I'm bored and Aaron is talking about Tim Burton, I thought I should bring up the "creepy" side of the television tube. But if you think this is an advertisement, heh heh, your wrong. I'm planning to bash the crap out of them.
I going to be looking at two shows. There's not much of this stuff, but what we got is suitable for my purposes.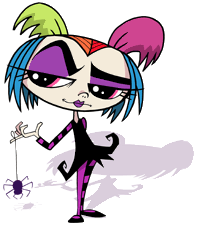 Name:
"Growing up Creepie."
Location:
Discovery Kids
Plot:
Girl grows up with bugs/insect fetish. Has a Black friend who totally understands.
Overview:
This show opens up with a horrible punk(?) song about insects and how people can't "Judge". Most episodes usually revolve around her getting into some situation in which either bugs are involved or help her put the trouncing on someone. Her "parents" are bugs(mosquito and mantis), who seem unaware of the social taboo raised with a child adopted by arthropods. It's kind of Freudian. Creepie is an "educational" show, which is reinforced with a brief educational segment about some insect at the end of the show.
Opinion:
The idea of insect children unnerves me, especially since they live in a mansion and are species which would normally kill each other for food. It raises so many questions. How could they raise a human child? What did they provide for food? Why aren't these atomic monster insects, they only insects capable of child rearing? The list goes on.
Other than that, it's not worth your time or your valuable t-shirt money.


Name:
Edgar & Ellen
Location:
Books, Nicktoons, your local Target.
Plot:
Two mischievous Tim Burton ripoffs play pranks on the sad normal people of their neighborhood.
Overview:
I've never gotten far with the new episodes, but this is what I know: They live in a tower next to a junkyard, their parents are "away", they have a grounds custodian, they have a piece of fur named "pet", they constantly wear pajamas(regardless of season, local fashion or vulnerability), they like to play weak sauce pranks on the normal people of their neighborhood, they have goth God hax.
Opinion:
Am I the only one who wants something like this to be treated like real-life? Like focus on these hard working, totally unassuming people, caught up with the needs of their life and their family and then BAM! they're squirted with cheese wiz by pale, pajama wearing, possibly anorexic children. It sounds like a horror film that doesn't want to go too far.
Forget this weak show. Go the black humor of the original master Charles Addams instead.
Rynan will keep a vigilant eye for any programming which seeks to cater to or appeal to the Goth population and bring it before my eye of scrutiny.
That's all for now.