I thot of something we can do!
mebbe not something

BLOODY

, but still....
Okay, so *anyone* can draw
Goblinus crestfalliensis
, right? Maybe not as good as Mr A, but really, a two-year-old could. Certainly anyone who can post to a forum can do a better one, too.
And what with Aaron gettin' the bait-&-switch from DC/Zuda, he could use some income.... (I'm gonna post this in the SR Store thread too, BTW)
I srsly think a t-shirt *covered* in goblins would be a really cool thing. Like, maybe so cool even the occasional Muggle might wear one. Hordes o' the little buggers. Or dozens, at least.
But how about a shirt covered in goblins, each by a different artist? I *know* a bunch of us here could contribute, and I can think of a few pros who prolly wouldn't take much convincing to chip one in too. And they wouldn't necessarily *all* have to be by separate artists, but I'd think more than a few per person would kinda miss the point.
To make something that's not too expensive to produce, it'd need to have a fairly limited palette; at first I was thinking just black & white on a pink background would be perfect, but that kind of graphic design might be a bit challenging for a lot of us amateurs, and a little bit of just a few other colors prolly wouldn't make a *huge* difference; if anyone knows specifics, please comment!
And essentially, I'd think it should have just about every kind of goblin doing any kind of gobliny thing imaginable - cute goblins, pathetic goblins, excited goblins, creepy goblins, etc, or even all at once if you can manage it. Just keep 'em simple - avoid setting & backgrounds, & minimal props (like maybe the odd balogney sandwich or something). Possibly little gobliny-quote bubbles for some of 'em, saying gobliny things.
I'm kinda fixated on the pink base color just out of sheer appropriateness, and 'cause with enough goblins it might not even dominate anyway. But if someone thinks their idea is better, go ahead & shoot; like f'rinstance letting the black be the background might end up using less ink or something, depending.
But anyway, here's a couple specimens I did recently; they'd obviously need cleaning up for that limited-palette thing but it's the basic idea:
that's one I did a few days ago, before the idea occurred...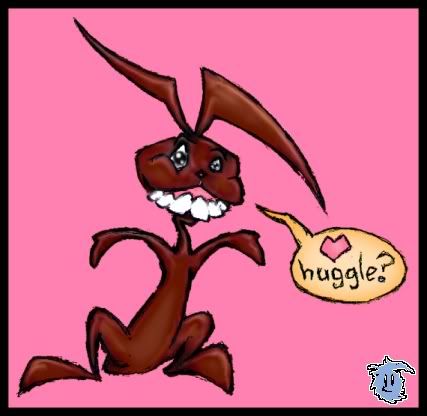 the idea came to me while I was drawing that one this... well, I thought it was morning, but akshly I think not...

(and it looked FAR less bunny-like before I colored it too...! had a spooky kinda

leer

too.)
Sort of a fan-project, not worry too much about credit, either give the rights to Aaron or credit "Bubblegum Noir" or whatever? Y'know, 'being for the benefit of Mr A' and all that? I think it'd even be fun.
Who's got somethin'? Maybe we could do like a goblin jam over at
A Blackened Bus
over on dA? Toss in your ideas & your goblins & we'll see if maybe this could work!